---

Sun Mon Tue Wed Thu Fri Sat
      1   2   3   4   5   6
  7   8   9  10  11  12  13
 14  15  16  17  18  19  20
 21  22  23  24  25  26  27
 28  29  30  31

---
Rainbow
Today, I started working with a new company. At 11:42, I thought I saw part of the top a rainbow. I had some doubts because of the time of the day. At home I verified with SunCalc.org that at given time and location the sun was 30.6° above the horizon, which means that a rainbow can be seen, where the top is at about 11° above the horizon. This matches my observation.
---
Silver Wedding day
Today it is 25 years ago that Li-Xia and I got married. This morning, I published a 'love letter' in Dutch on social media. The English translation of this letter is:
Dear Li-Xia,

today we are married for 25 years and we celebrate our silver wedding. For a long time it was uncertain whether you would still be physically present at this day. Despite the fact that you are no longer able to conscientiously experience this day, I still want to celebrate it with our children (in a simple way). You are a very special woman and I am glad that I got to know you and that we were married 25 years ago. We did not have an easy marriage. Our characters often clashed (especially in the early years). Such a clash often ended in a deep sense of how much we loved each other and that we would never let each other down. In the past year I realized that we have experienced a form of intimacy that very few couples experience. Perhaps we would never have achieved that without all the difficulties we encountered on our path. When I told our story a few months ago, a woman who came from America, she concluded that we were 'soul mates' in her eyes. I had never looked at it like that before, but I think she is right about it. You are and will remain my wife and the mother of our two children, which I am very proud of. I am still very proud of you, as I was when we were just dating.

I love your!
In the evening, I took Annabel and Andy to a wok restaurant to have a dinner together to celebrate this. The following picture was taken there: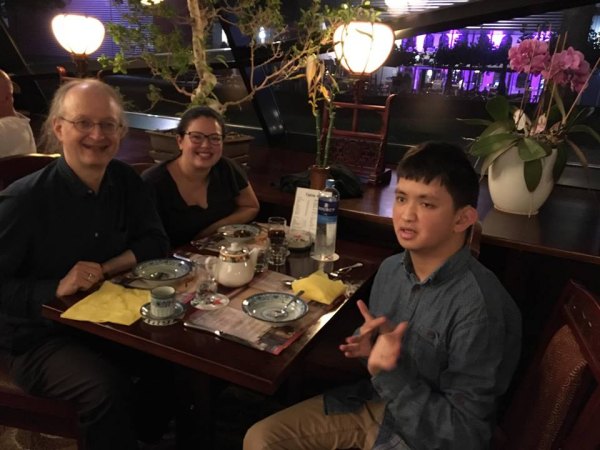 ---
Palingdrom date
Today is a palindrome date when written according to the (D)D-(M)M-(YYY)Y format: 8-10-2018. The previous such date was October 7, 2014 and the next will be October 9, 2019.
---
Death of Li-Xia
At 5:30 (in the morning), Li-Xia died in the presence of some people taking care for her. She died rather quickly and peacefully, while being held asleep for medical reasons.
---
Moleskin daily planner
At 17:02:29, I bought a Moleskin daily planner for 2019 from Bookshop Broekhuis for € 21.99.
---
Funeral of Li-Xia
The funeral service for Li-Xia started at 9:30 (in the morning) at the crematorium in Usselo. We only invited family and friends (of Li-Xia) who had taken the effort to visit her in the carehome where she stayed in the past years. Of course, Annabel, Andy, and my mother were present. And also our long time friends Bert and Cornelise. Because, Li-Xia's family could not be present, a recording was made of the service. We asked a professional photographer to take picture before, during and after the service. Because of the extreme warm temperature of the last days (Wednesday 24.1°C, Thursday 24.2°C, Friday 24°C, Saturday 27.7°C, Sunday 25.8°C, and today 24.4°C), I decided to get an icecream in the center of the city. I continued to TETEM art space, where I saw the exhibition Do It Together Neighborhood (for the first time) and Bits, bots and brains (again). From the last exhibition, I liked the works drawn by Maria Smigielska and Les Colchiques.

At 17:38, I bought the book Duin messias (the Dutch translation by M.K. Stuyter SJ of the English Dune Messiah), written by Frank Herbert, published by Meulenhoff in 1986, ISBN:9029008857, from charity shop Het Goed for € 1.95.
---
Last summer day
Today, the temperature reached 25.2°C at the weather station Twenthe. It seems it will be the last summer day (a day on which the temperature reaches 25 degrees Celsius) of this year. So far, we have 75 such days, with 16 days where the temperature reached 30 degrees. The highest temperature measured this year at the weather station is 36.2°C. This also is the record temperature since measurements started in 1951.
---
Home | September 2018