---

Sun Mon Tue Wed Thu Fri Sat
          1   2   3   4   5
  6   7   8   9  10  11  12
 13  14  15  16  17  18  19
 20  21  22  23  24  25  26
 27  28  29  30  31

---
New year day
One of the first things I did this year, was finishing my glass of beer. It was a special beer called Donkere dagen (Dark Days in English) made by Brouwerij Eanske. It is a Imperial Schwarz beer with an alcohol percentage of 7.5%/vol% and a bitterness of 23 IBU, a colour of 112 EBC, and 66 Kcal/100ml.

In the afternoon, I watched the reports about New Horizons to hear that it survived the flyby of Ultima Thule and probably performed all the science operations as instructed.

In the evening, I went to TkkrLab to meet some of the regular attendees. We had some discussions about the problems around software development in companies. Lately, I often think about going away from software development. I notice that I even have problems working on my own private projects.
---
Book
At 17:34, I bought the book Kunst op niveau written by Piet den Hertog in Dutch and published by Lambo in 2002, ISBN:9789074119818, from charity shop Het Goed for € 1.95.
---
Most chaotic?
This afternoon, I thought about the colour rubber straps sequence and decided to look for the most chaotic sequences. I searched for the sequences of which the maximum of the distances of reoccurences of certain combinations was the lowest. I found nine sequences where the maximum is three, but all of them have two combinations that occur with just one other combination in between. There is one sequence that does not have this and has a maximum of five. These ten sequences are visualized below:
---
Winter sale
Although I had little time, I went to the opening day of the winter sale at bookshop Broekhuis. There were many books with 50% off. I did pickupe one book (Waarschuwing: de schrijver van dit boek is kunstenaar by Tinkerbell) and carried when looking at other books, but in the end I decided not to buy it, realizing that I might not read it.
---
Going to China
This evening, I thought about our plan to go to China this summer to visit some family in Wuhan and to visit Urumqi. I got the idea to travel by train. There are a lot of high-speed train connections. My idea is to fly to Beijing, stay there for some days, travel to Wuhan by train. Stay some time in Wuhan. From there travel with a high-speed train to Xi'an. From Xi'an there is a night train to Urumqi. When I search YouTube for some more information, I found: Xinjiang's New High Speed Train (Urumqi to Lanzhou). There is also a high-speed train from Xi'an to Lanzhou, but the high-speed trains are only traveling during the day and you have at to stay overnight in one of the cities along the route. I searched for some more information and watched: The Chinese Silk Road - Episode 1 - The Journey Begins and The Chinese Silk Road - Episode 2 - Into the Desert. It seems interesting to stop over at Lanzhou and it the famous noodles made in the city. When Li-Xia traveled between Beijing and Urumqi, the trip would take three days and three nights. The long distance night trains offer hard and soft sleepers. I found this report of a woman taking the night train to Urumqi using a soft sleeper: Soft Sleeper Overnight Train in China |Silk Road|. I also watched (fragments of): OVERNIGHT Train in China (Nanning to Shanghai) 🚅 | It was AWESOME!👍 中国 培养 视频 about another soft sleeper trip, OVERNIGHT SLEEPER TRAIN IN CHINA about mother and son in hard sleeper, and Chinese Bullet Train BUSINESS CLASS & 1ST CLASS Review!. From Urumqi we could also fly back to Beijing for our return flight back home.
---
Walk-in Worlds
I went to the opening of the exhibition Walk-in Worlds at Tetem art space. It is an exhibition by Abner Preis and consists of six virtual-reality (VR) presentations, some of which are recordings made with a 360° camera. Before entering, we were given balloons and when we entered the exhibition, we were told to blow up a balloon while 'saying' the name of a deceased person and then put the balloon in the large 'dress' at the center of room. I watched (parts of) four of the VR presentations with the idea to return on a later moment and take time to watch them till the end. I talked with Bergje Lulofs about drawing and with Ole Nieling about modular synthesizers (amongst other things).
---
Thin layer of snow
This morning, there was a thin layer of snow only at cold places such as cars and plants. While biking to work, I came across some places where the snow was also on the road. We are at the start of a cold period and some of the snow stay the whole day (and maybe also tomorrow).
---
Sparkle party
In the evening, I went to the sparkle party that was organized for all volunteers of the Overkill Festival. I watch several people playing the Superhot VR shooter game, but did not try it myself. I spend some time in the 'ball pit' room working on some program and listening to the music played by someone who was DJing with a Pokket Mixer (or clone) and two MP3 players. Next I spend some time sitting in the small movie theater were people were playing Ultimate Chicken Horse on the screen. I continued doing some programming on my notebook. At the end, I danced a little in the 'ball pit' room with some other people. When I left around a quarter to midnight, some people were just arriving.
---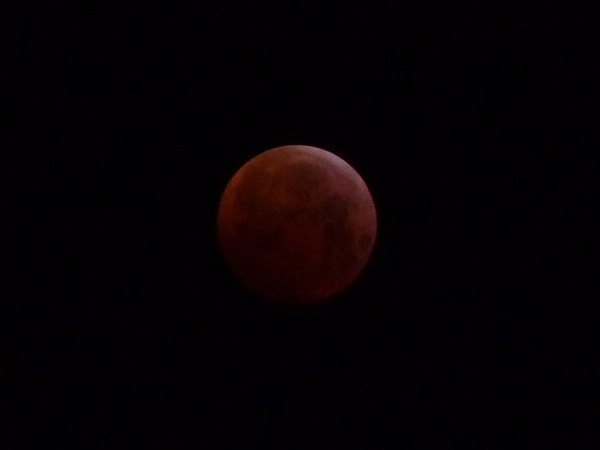 Red moon on a Blue Monday
I got up early to take some pictures of the moon eclips during this years Blue Monday. I did not have to go far, because it was visible right at the door in my back garden. I had prepared a tripod and used the self-timer to avoid any motion blur due to pressing the shutter button. At first I thought I had the time wrong, because it was not as dark as the eclips from last July.

---
This months interesting links
---
Home | December 2018 | Random memories