---

Sun Mon Tue Wed Thu Fri Sat
                          1
  2   3   4   5   6   7   8
  9  10  11  12  13  14  15
 16  17  18  19  20  21  22
 23  24  25  26  27  28  29
 30

---
La Côte sauvage
Annabel, her boy-friend, Xiao-Xia, and Xuan-Xuan, and I went to Amsterdam. We did a canal cruise, some shopping and went to the Van Gogh Museum. (On the way going there, I put one step inside bookshop De Slegte.) We saw the "Van Gogh at Work" exhibition. At one point I noticed a painter that looked like one of Monet, and when I came closer, I discovered that it was the painting La Côte sauvage by Claude Monet. At home I concluded that this must Wilderstein number 1100. On the way back, I went into bookshop Selexyz Scheltema, but had to leave at the moment I saw some interesting books.
---
Visit of Xiao-Xia and Xuan-Xuan
On Friday, May 31, Xiao-Xia and Xuan-Xuan arrived with flight 345 from China Southern from Beijing. The plane landed at 4:44 AM. I went to get them by car. Well before eight we arrived in Enschede. In the morning, we (including Annabel) went to visit Li-Xia at the nursing home. For Xiao-Xia it was rather emotional to see her sister after almost three years. But they felt Li-Xia was better than they had imaged. They asked her many questions, but Li-Xia gave conflicting answers and it was not very clear if she recognized them for who they are. She did smile all the time, which might be a sign that she did recognize them, and that she was happy that they visited her. We also took Li-Xia on a walk through the building. In the afternoon we rested. For dinner we went to Sensazia, a wok restaurant. Then I showed them my office and the first room of Li-Xia on the campus. There we met with the Chinese couple who also have visited Li-Xia several times in the past year. It was nice for Xiao-Xia to talk with them, because they too have seen Li-Xia and know about her condition.

On Saturday, June 1, we took them to the inner city, to see the open air market, many shops. We had lunch at grillroom Camel, where we often used to eat doner kebab and falafel. I prepared sauerkraut for dinner and afterwards we watched some family photos and videos.

On Sunday, June 2 in the afternoon, we celebrated the birhtdays of Li-Xia (May 27) and Selina (May 29), my niece. Some of my family members arrived around 2 PM. We had some cake. Around three we went to the nursing home and stayed in downstairs while I went to get Li-Xia. We had some tea and drinks. Li-Xia looked a lot at Xuan-Xuan and seemed to avoid looking at Xiao-Xia, maybe out of embarrassement because she became a little emotional again. We stayed for about an hour and went home again, were we ate soms snacks and had a Chinese takeaway dinner.

On Monday, June 3 early in the morning, I took them to the nursing home to be with Li-Xia when she was having a bath in the special snoezelen room. Xiao-Xia stayed with Li-Xia for all the time. Xuan-Xuan only took a short peek to see the room. I stayed for the latter part. Li-Xia was very relaxed, almost sleeping. When she was getting dressed, Xiao-Xia and I took care for her hair. Back in the living room, Xiao-Xia dried her hair. In the afternoon we did show shoppings (for presents) in a local mall. I made cauliflower with steak for dinner.

On Tuesday, June 4, we (including the boyfriend of Annabel) went to Amsterdam by train. At noon, we took a one hour canal cruise. Then we did some shopping and walked to the Van Gogh Museum and saw the Van Gogh at Work exhibition. Xuan-Xuan told me that it was impossible in China to see so many (real) paintings together. We walked back to the center looking around some more shops and had dinner at China Sichuan Kitchen. A little spicy, but very authentic Chinese dishes. Very enjoyable dinner.

On Wednesday, June 5, we did some more shopping (for presents) in the city and had our lunch at La Place, the restaurant were Annabel now has a part-time job. In the afternoon, we visited Li-Xia again. We took some nice pictures with her, one of which is show here on the top. We also took her on a walk around the building, because the weather was very nice. Then we went to get Andy from school, who had been on a three day camping trip. In the evening, I made spaghetti. In the evening, I show some photo albums to Xiao-Xia and Xuan-Xuan went with Annabel on the old bike of Li-Xia to get some ice creams.

On Thursday, June 6, we took it quiet. In the afternoon, Xiao-Xia and I prepared jiaozi (Chinese dumplings) as is a custom on the day before the departure. Annabel went with Xuan-Xuan to the city for some last shoppings. In China you are still expected to give presents to your family, friends and relatives when you have been on a trip, especially abroad. The jiaozi were nice. Then we went to visit Li-Xia for a last time, leaving Andy with the boyfriend of Annabel at home. We let Xiao-Xia go in first when we arrived and Li-Xia responded with surprise when seeing her. This clearly proves that Li-Xia still recognizes her sister, at least as someone she knows. We had brought some jiaozi with us, and I helped Li-Xia eating two of them. Then we had so say goodbey. One of the personel of the nursing home walked with us to the elevator, and stayed with Li-Xia so that we could wave to her, while leaving the building. Li-Xia laughed a little before she turned away. A kind of laughing to hide her sad feeling maybe?

This morning, we got up at six and left just before seven by car to the airport with the five of us, where we arrived at a quarter to nine. After cashing some tax refunds we said goodbey at the check-in. They very much enjoyed their stay in the Netherlands, especially the quiet atmosphere. To them it felt like a real holiday. They are impressed by the facilities and the personal of the nursing home and now feel much more at peace with Li-Xia staying there (and not with them in China). Yet they said goodbey with mixed feeling, hoping to return in the future. They took flight 346 from China Southern back to Beijing.
---
Extreem Luid & Ongelooflijk Dichtbij
I have been analyzing the phone spell in Extreem Luid & Ongelooflijk Dichtbij, the Dutch translation of Extremely Loud & Incredibly Close. It seems that only the first few sequences, are translated from Enlgish to Dutch. "4, 2, 5, 5, 6" stands for "hallo" (Dutch for "hello"), "2, 3, 6, 5, 4, 5, 4, 3, 8, 3, 2, 4, 8?" stands for "ben jij het echt" (Dutch for "is it really you"), "4, 3, 5, 7" stand for help, "5, 4, 3, 3, 3" stands for "liefde" (Dutch for "love"), except that it should have been four 3's instead of three, and "3, 6, 6, 3" stands for "dood" (Dutch for "dead").

The large sequence is just the same, except for a number of small differences, and the fact that an additional four 'sentences' are added at the end appearantly to fill up the page, just like in the English version. The small differences consist of twice an exclamation mark changed into a question mark (sentence 36 and 38), a question mark changed into a exclamation mark (sentence 58), a two changed in three (sentence 66), a five changed into a three (sentence 86), and another exclamation mark changed into a question mark (sentence 118). However, when I verified these differences with my English copy of the book, I discovered that these were all caused by errors in the corrected OCR output. Now I will have to see how these errors affect the rest of the analysis that I performed earlier on.
---
Merging in distributed version control
Distributed version control make use of Optimistic concurrency control and merging. This merging involves conflict resolution. Distribute version control has many advantages and, of course, also some disadvantages, one of them being conflict resolution. In case most of the changes are in the contents of the data and not the structure, as is the case when it is used for software development, conflict resolution consists of textual merging of differences. This too can be complex, but in most cases it is no big problem. However, in cases where there are many changes in the structure and where there are references between elements (objects) that need to be kept consistent, things become complex.

An interesting question is whether merging should take into account the history of changes or not. When not taking into account the history, simply two versions are compared and the differences need to be resolved. Usually the elements have a unique identifier and a timestamp that can aid in the process of resolving. One could also keep track of which elements have been deleted with a timestamp, to know if elements that are present in one version are newly created elements or old elements that are deleted in the other version. What this process actually involves is the reconstruction of a common ancestor version.

Instead reconstructing a common ancestor version, it is also possible to explicitly keep track of this. In a distributed systems, this means keeping a log of all changes, where each set of changes is given a unique identifier. The most simple system would just keep a list of these unique identifiers, and replace the time-stamp on each element by the unique identifier. Now when merging two versions, one can determine the newest common change set identifier and from this see what are the changes made in both versions.

But how should the list of changes of the merged version look like? Should it incorporate information of the changes made in both versions? If the intermediate changes are simply discarded and a new change set is created and all the changes since the common ancestor version are assigned to this new change set, this leads to the situation that the common ancestors are getting older and older especially in a distributed environment with many cross merges. Or in other words, the number of conflicts that need to be resolved are getting larger and larger.

A better solution seems to keep a collection of change sets and dependencies between these change sets. Two change sets have a dependency when changing the order would result in a different final state or when an intermediate state would violate one of the consistency rules. For example, a change set which introduces a strong reference to an element, depends on the change set in which this element is created. When change sets from different versions are compared it is possible that they have no dependency, in which case they both can be put into the merged version. But if they have a dependency, then there is a conflict which needs to be resolved. This can be done in several ways: either by discarding one (or both) of them or by merging them into a new change set. Probably this new change set needs to keep a reference to the original change sets, this in case when the merged change set encounters one of the other conflicting change sets through a different route at a later stage. But again, there is no end to the complexity, because after many merges, the structure of this information can also become very complex. How much should one remember and how much information is useful. What is the right balance between having to perform the same merge more than once and the added complexity of avoiding this.
---
Moving is swapping
I have been thinking for many years how one would implement semantics based locking with respect to moving elements in an ordered collection. A practical example of this is when two people are moving parts of text around in a document, under what rules can these be merged, such that both find that the changes they have made are not applied correctly. This afternoon, I realized that moving an element should be seen as swapping of the element and all intermediate elements. Two swappings commute when either their outer ranges do not overlap or when one of the swappings is completely inside one of the two inner ranges of the other swapping. Of course, when both users perform several swappings, things become a little more complicated, but I believe that all situations can be covered with the basic principle. Also operations as adding and removing elements can be integrated. This evening, I went to see Star Trek Into Darkness at Cinestar Wolff together with a colleague. Before the break a felt that the movie was a little far fetched, but afterwards I concluded that this was indeed a great movie and a good sequel of the previous one. It made me laugh less, but it still had a very good balance between drama, action and humor.
---
Calendar and zen
At 13:35, I bought the calendar Van Gogh 2013 by Allaluna from bookshop Broekhuis for € 2.50 as a gift to Annabel because it has one of her favourite paintings by Van Gogh, The Starry Night. At 13:50, I bought the book Osho: Zen en de religeuze ongelovige (translated from the English Osho: Nirwana, The last nightmare by Prem Abhay and Willem Pronk) by Osho, ISBN:9789059801110 from booshop De Slegte for € 3.49. I found this outside in the last copies stand which are sold with 50% reduction.
---
Corrected copy analysis
After, I recently found some errors in the the corrected OCR output of large sequence of phone spell in Extremely Loud & Incredibly Close, I have made some corrections to the copy analysis I did presented on August 15, 2011. For most the corrections are minor, with the exception that I am quite sure now that the sentences 34 to 39 are copied from sentences 44 to 49. Below the correct analysis with the changed lines made bold, and with the an additional line covering the additional numbers given in the Dutch translation to fill up the page. Maybe the translators have been given the instructions to fill up the page with some random part taken from the rest of the sequence.
S1 is '696263473543258626345878277483328843247767846333863463673465357!'.
S2 is '6432267425638726343?'.
S3 is '5763' and S1[13-48] with 1 mutations.
S4 is S3[25-34].
S5-S7 is copy of S1.45-S3.24 with 3 mutations.
S8 is S1[25-58] with 4 mutations and S1[25-58] with 7 mutations.
S9 is '526265952?'.
S10 is first 27 of S1 with 8 mutations and '42552924526'.
S11 is '42' and S10[3-36] with 5 mutations.
S12 is S11, '472272', and S8[52-66] with 2 mutations.
S13-S21 is copy of S4-S12 with 15 mutations, "love?" inserted before S7, and S8.30-S10.23 replaced by '!'.
S22 is '65557!' (or end of S5 with 1 mutation).
S23 is first 11 of S6 with one mutation and '526'.
S24 is S20[15-19] with '?'.
S25 is '5765', end of S20 with 1 mutation (S20 = S11), '455652', and S21[21-27].
S26 is S25[25-32].
S27 is "love?".
S28 is S3 with 9 mutations (or S13 with 3 mutations and start S14).
S29 is S28[25-36].
S30 is "love?".
S31 is "love?".
S32 is "love!".
S33 is first 28 of S20 with 2 mutations, '4524', and last 22 of S7.
S34-S39.7 is copy of S44-S49.7.
S39.5-S43 is copy of S8.27-S12.
S44-50 is copy of S22-S26 where "!love?" is inserted before S25.30.
S51-S52 is copy of S10.28-S11.7 (or S19.6-S20.7) terminated with '!'.
S53 is copy of S28.
S54-58 is copy of S13-S17.
S59-S66.30 is copy of S21-S28.30.
S66.31-S72.4 is copy of S49.6-S55.4 where S51-52 is replaced by '6545!45?'.
S72.5-S78 is copy of S6.6-S12.
S79-S85 is copy of S44-S50.
S86-S90.5 is copy of S14.5-S19.5 where '!' at the end of S14 is replaced by ','.
S90.6-S103 is copy of S72.5-S85.
S93-S118 is copy of S40-65.
S119-S124 is a copy of S28-S33.
S125-S129 is a copy of S92-S97 with S94.8-S95.24 replaced by '5652465552' (which is the end of S116, S102, S84, S63, S49, or S25).
S130-S133 is a copy of S39.8-S42.3
---
Non-verbal communication
Earlier this week something happened that made me aware again, that my social skills, especially with respect to non-verbal communication, are below average. I often feel insecure in social contexts that I am not familiar with, afraid that I will interpret some signal wrong or to say or do something that is improper. I am sometime well aware that others communicate on a different level (in a different manner) but I find it hard to compensate for this. I know that I am able to imagine what others must be feeling and to realize that they have a different point of view. But I have to admit that often this does require some thinking from my side, and that the insight sometimes only comes afterwards. Sometimes, I am even able to make clever observation, and there are definitely people that are close to me that I can read very well. I came across the articles Activation of the fusiform gyrus when individuals with autism spectrum disorder view faces and Abnormal Activation of the Social Brain During Face Perception in Autism by Nouchine Hadjikhani (in collaboration with others), that explain how people with autism and a normal intelligence do process faces in a normal way but that something goes wrong in the higher level processing, and that this leaves room for training. It is also possible that people with high functional autism (and/or Asperger's Syndrome) are simply slower at learning to read and/or respond to non-verbal signals in faces and body language. I wonder how this is equivalent to a very introvert brain that is more focued on internal signals (often in the form of day dreaming) than external signals.
---
Art?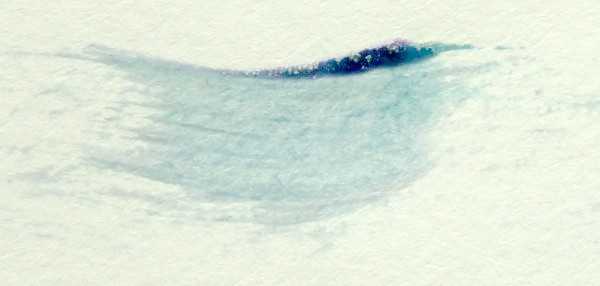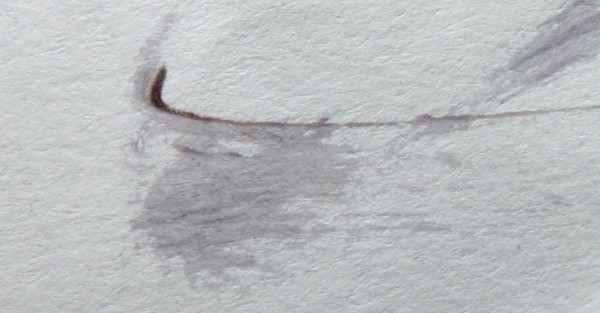 These are (processed) close-up pictures of a painting that Andy brought home recently.
---
Polare
I brought a short visit to the bookshop that I have visited most often (so far), because today it name has changed from De Slegte into Polare. This after the shops merged last December with the Selexyz shops. These too have been rebranded into Polare, which means that many of the shops that I have listed on my bookshops page are no named Polare. I have decided to keep the old names in the title as a reference. The name Polare is derived from "Stella polare", Latin for Polaris, the current pole star. I find it sad that the name De Slegte has officially disappeared, but I think it will still be used for a long time in a colloquial way.
---
8 by 10 solutions
In the past four weeks, I found all solutions for the Chinese Wooden Puzzle for the white and orange pieces and two of the four other possible pieces within a 8 by 10 frame using five pieces for each colour. Below a table is given with the numbers. One could conclude that the green and red pieces are difficult and the blue pieces are easy in use. The solutions (except for the two combinations with the largest number of solutions) are given on the page Chinese Wooden Puzzles in 8 by 10.

Remark: On November 18, 2015 I discovered that these numbers are incorrect, too low probably in most cases.)
---
USB 3.0 card
Early today, I installed a two port USB 3.0 PCI express card in the johan PC. I bought this card yesterday together with a 500GB Seagate external drive which supports USB 3.0.
---
This months interesting links
---
Home | May 2013 | July 2013