In memory of
Ger
by Frans
---
My father was born almost exactly two and half years after his only brother. His mother did not get any other children. They lived in a house on the Leidsestraat in Utrecht. My fathers youth was marked by the economical crisis of the thirties followed by World War II. The first four years he went to school to the "Puntenburg" in Utrecht. Then he went to R.C. "Anthonius" parishschool for two years (repeating the fourth year). After this he continued at the R.C. "Gregorus" school, which was run by friars.

In the last years of World War II he played a small but significant role in the resistance forces by helping with the illegale reproduction of food tickets for hide-away people. His father was able to get his hands on the food tickets of the next week. In a small dark room, my father made printing plates from these food tickets. For proof printing he had to bring the printing plates to an illegale print shop on the borders of the city. Not a totally risk free operation as he had to pass several German road blocks. If the printing plates would have been found on him, they could have ended his life.

In 1944, he was declared unfit for labour because of a partial paralysis that was caused by a serum against diphtheria. This lasted from around pentacost till August. One of the most frighting moment in the life of my father (and his family) took place in November of the same year, when German soldiers search the houses looking for young man that they could take as labour force to Germany. My father and his brother spend some frighting hours in a hide-away place, which the soldiers almost found.

After he had got his retailer's certificate in 1944, he worked as a bookkeeper with the "Andree" bakery, and the "de Laat" fish market till November 1, 1946. From November 5, 1946 till January 26, 1949 he did his military service. After this he worked with "Electro Motoren Industrie" (E.M.I.) in Utrecht, the tariff office for fire insurrances, and the "Onderlinge Pharmaceutische Groothandel" wholesaler business. From 1954 till April 30, 1962 he worked at the Labour Council in Utrecht. His favourite past time activity was sailing on the lakes around Loosdrecht, a small city North of Utrecht.

My father and mother grew up in neighbouring streets, but it was not until they met again on a wedding of a brother of my mother that something special developed between them. Because houses were difficult to get, they were first married before the law in early 1960. Being married gave them a higher urgency, and they thus were able to buy a house in De Bilt, a small city just east of Utrecht were most of my mothers family lived. On Saturday, November 26, 1960 they were married in the Michaël church in De Bilt and started to live together in their house on the Savinlomanlaan 9 in the Bilt.

Within a year, I was born. On May 1, 1962, my father started to work at the staircase factory "Hoograven" that was run by his father-in-law. Soon my other brother and sisters followed. It was a very busy time for my parents. In the evening, my father often had to go to his work again, driving his small moterbike. Just after my youngest sister was born in 1966, our family moved to Nuyenstraat 13 in Woerden, because the staircase factory moved to Montfoort.

In 1968 he was struck by disease and had to be hospitalize for many weeks. He was operated and finally send home. Within weeks he started working again. Only years later he heard the story that he had suffered from cancer and that the doctors had send him home to die because he was a hopeless case in their eyes. We still see this as one of the miracles in his life. Although he overcame cancer, the drugs that they gave him affected his health. He would often wake up with a headache, and whenever this happened he had to resort to painkillers to become reasonable normal again.

It was also in the late sixties that he started to shoot Super 8 movies of us, which was a real hype at that time. In the seventies, my parents bought a small (5 meter) but seaworthy sailing yacht. We often made small trips with it. Through the years, my father made several longer trips through the Netherlands, going as far as the IJselmeer lake.

In 1979, an exchange student from Ohio came to stay with the family for a year. She quickly became the sixth member of the family, and in the summer of 1980, he made a sailing trip with her.

On June 29, 1985, my parents flew to Detroit in order to attend the marriages of the above mentioned exchange student, and to visit some family of my mother. They returned on July 26. This was their first big trip. On November 1, 1985, he retired early from his job on the staircase factory. A few years later, my parents moved to a smaller house in the center in Woudenberg, where they quickly became friends with the neighbours in the street.

Christmas 1991, we celebrated his 65th birthday with the whole family in Reutte, Austria from 21-28 december. On the 27, he visited Neuswanstein with some of us. On April 30, 1992, my parents flew to Dayton from where they visited friends and relatives. Then on May 12, they took the Amtrak from Toledo to San Francisco. They stayed in the Lombard Hotel in San Francisco for some days and looked around the city. After this, they hired a camper and looked around the area going as far as Salt Lake City in Utah. On June 12, they safely returned home.

On October 3, 1996, my parents together with another couple flew to Singapore, from where they flew to Medam a few days later for a round trip through Indonesia. It was on November 9, that they returned home again. (On November 4, my mother made a phone call to me.)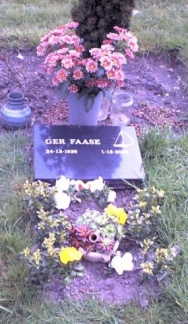 In the spring of 2000 it was discovered by accident, that he had an abdominal aortic aneurysm, probably as the result of his leaking heart valve. In May, my parents still made a trip to Rhodos. On the weekend of November 25-26, 2000, we celebrated their fourties wedding anniversity with the whole family.
The next Friday, December 1, he died when the aneurysm, which had become larger and larger, suddenly broke. That same day, we his children came together in my mothers place to comfort my mother and to make all the necessary arrangement, including the funeral card. My mother wanted him to be laid out at home.
We said goodbye to him after the evening vigil on December 5 when the coffin was closed. He was cremated on December 6. His ashes were buried on Wednesday, February 28, 2001 on the graveyard in Woudenberg. On the tombstone there is a little sailing boat engraved, because he liked sailing so much.
---
Mentioning of my father in my online diary:
Things I inherited from my father:
Some of his study books.
Some of his writings.
His genealogic notes about his mothers family.
A Laser color computer 310. Made in Hong Kong. Copyright 1983. Seems to contains a 6502 processor with a build-in Basic interpreter.
Entry on Find A grave