---

Sun Mon Tue Wed Thu Fri Sat
  1   2   3   4   5   6   7
  8   9  10  11  12  13  14
 15  16  17  18  19  20  21
 22  23  24  25  26  27  28
 29  30  31

---
Magnolia floweing again
This morning, I discovered that the Magnolia in our back garden started to flower again. This is the second time this year. The first time was on March 25.
---
07-07-07
Today, is one of these special dates again. Many people got married, one couple even at 7:07 in the morning. On the news they also reported about a hunderd year old lady that was born on 07-07-1907. And last but not least we had the "Live Earth" concerts all over the world. In the Netherlands there was also one. Only a small percentage of the people are willing to make changes in their life style that would prevent climate change. The consumption of fossile fuels in the world is still steady growing, but quite soon we will run out of (cheap) fossile fuels, which will result in a world-wide economical crises, and possibly another world war. In the end this will lead to a reduction of green house gases. This afternoon, Annabel discovered that one of her fishes had given birth to 28 small fishes. She immediately separated them from the other fish and went to buy some special food for them.
---
Spam from Spamhaus
This morning, we received the following "spam" message at our office:

WORKING TO PROTECT INTERNET NETWORKS WORLDWIDE
Spamhaus tracks the Internet's Spammers, Spam Gangs and Spam Services, provides dependable
realtime anti-spam protection for Internet networks, and works with Law Enforcement to identify
and pursue spammers worldwide.

The SBL database is maintained by a dedicated international Spamhaus team based in 9 countries,
working 24 hours a day, 7 days a week to list new confirmed spam issues and - just as
importantly - to delist resolved issues.

The Spamhaus Exploits Block List (XBL) is a realtime database of IP addresses of illegal 3rd party exploits,
including open proxies (HTTP, socks, AnalogX, wingate, etc), worms/viruses with built-in spam engines,
and other types of trojan-horse exploits.

The Exploits Block List can be used by all modern mail servers, by setting your mail server's anti-spam
DNSBL feature (sometimes called "Blacklist DNS Servers" or "RBL servers") to query xbl.spamhaus.org.
Use of the XBL is free for users with normal mail servers (but networks with high email traffic should see DataFeed).

You can get MUCH MORE if you contact us:

The Spamhaus Project Ltd. 18 Avenue Louis Casai, CH-1209, Geneva, Switzerland, Tel +41225330399

I guess someone is trying to make it look like Spamhaus is spamming as well. On the web site of Spamhaus there is a statement that this happens frequently.

This evening, Annabel and I went to visit Ton for the last time in his house here in Enschede, because he is going to move to the otherside of the country. Sara and Titus were also there. Ton and I talked a lot and we also played two games of Go. The first, where I got six stones ahead, Ton resigned after a mistake. The second, where I got five stones ahead, I resigned, after it became obvious I was going to lose. Annabel played one game against Titus, which she won with ease while he gotten two stones ahead. We also played some games of Hex. Ton can now beat a Hex playing program with ease. He things that the problem is that these programs have no concept of sacrificing a few stones in order to win the game.
---
Maastricht 148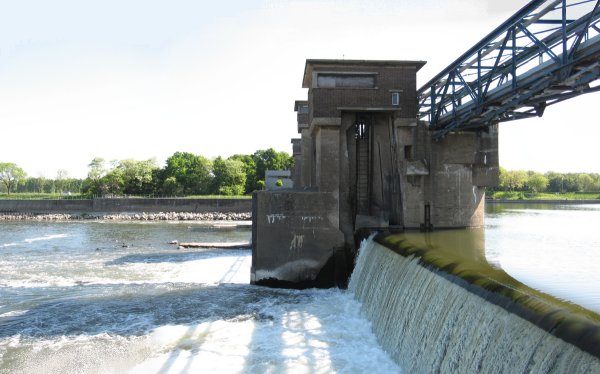 Today, I spend some time combining pictures I took on May 1 into images that match the pictures in the book Maastricht 148. On May 1, I took four pictures of the Barrage in the Meuse river close to Maastricht for picture [44] in the book. When I tried to combine them today, I discovered that some parts were missing in the corners. I decided to make an attempt to "redraw" the missing parts, although I had doubts whether I would succeed with respect to the top right corner, which contains a part of the "bridge" above the barrage. After about one and half hour, I arrived at the image shown above. If you move your mouse over the image, the original image is shown, which was created with hugin.
---
Finishing: Myst V
This evening I finished Myst: End of Ages. It is almost two year ago that I started this game on August 26, 2005.
---
This months interesting links
---
Home | June 2007 | August 2007